30 years KW – a soft concept for third space formations
For its 30th anniversary, KW Institute for Contemporary Art organised an annual program of events, auctions and space activations around Auguststraße that culminated in the program's key event. A weekend-long celebration in September 2021, featuring an extensive program of events, performances, and the launch of the first publication retracing KW's history. After two years of close collaboration with KW's Education and Art Mediation department, in forty five degrees we designed a series of spatial interventions that were presented as part of KW's 30th anniversary programme. Fundamental design principles of the soft concept are minimum space occupation, scale, mobility and flexibility; high levels of hybridity, both formal and programmatic, that foster performative interactions and stronger engagement with and among broader audiences.
The proposed strategies are framed as soft concepts as they do not involve a permanent architectural transformation of spaces, but rather seek opportunities for externalizing uses, overlapping multiple activities on existing spaces, and providing flexible, mobile infrastructure.
From the courtyard to the attic, the interventions encouraged visitors to gather, play and engage with the public. Our main intervention, the central scaffold stage, was inhabited by the dense program of performances and live acts curated by  The Performance Agency , and offered a space for the visitors to gather informally during the three-days festival.
Part of the program taking place during the summer festival was the workshop organised around the mobile infrastructures for the mediation activities designed by forty five degrees. It consists of a modular, flexible, storage/archive system that will evolve in time and will offer an engaging display of all Third Space's activities, as so far, due to storage space limitations throughout the KW building, there was no opportunity to document or archive creative outcomes, and any workshop results. This display/interface system exists within the KW premises, but also travels to external locations on a bike trailer, activating workshops outside of KW.
On the rooftop, the performative Game of Life organized by Jugendgremium, In Game of Life, visitors venture through a fictitious life trajectory based on various event-cards which explore questions of identity, community, love, gender, and migration.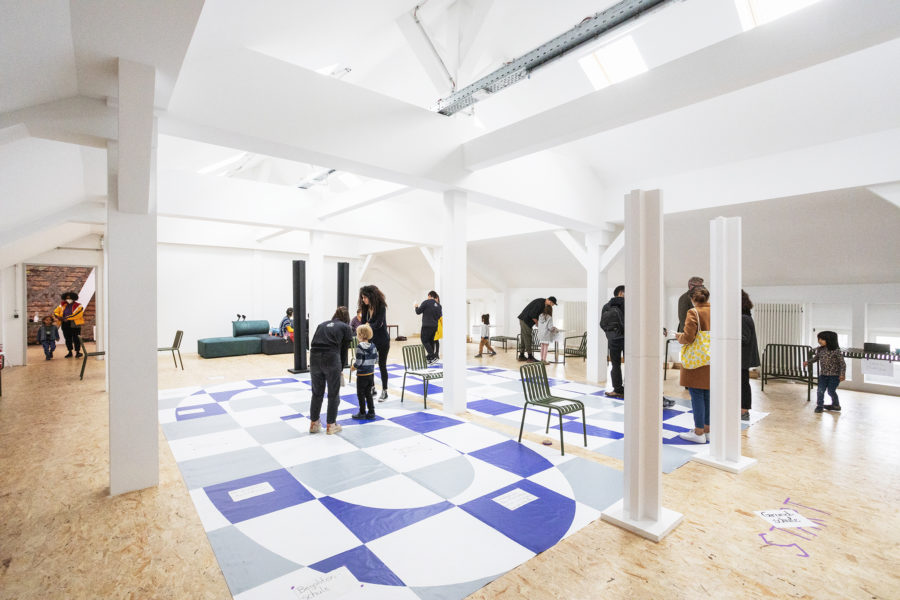 The game was initially planned to be played on the street. forty five degrees merged the idea of a big scale board game and the speed limit sign in front of the KW entrance, to create the scenography for the updated version of the game.
All images © Valerie Schmidt