Wallczka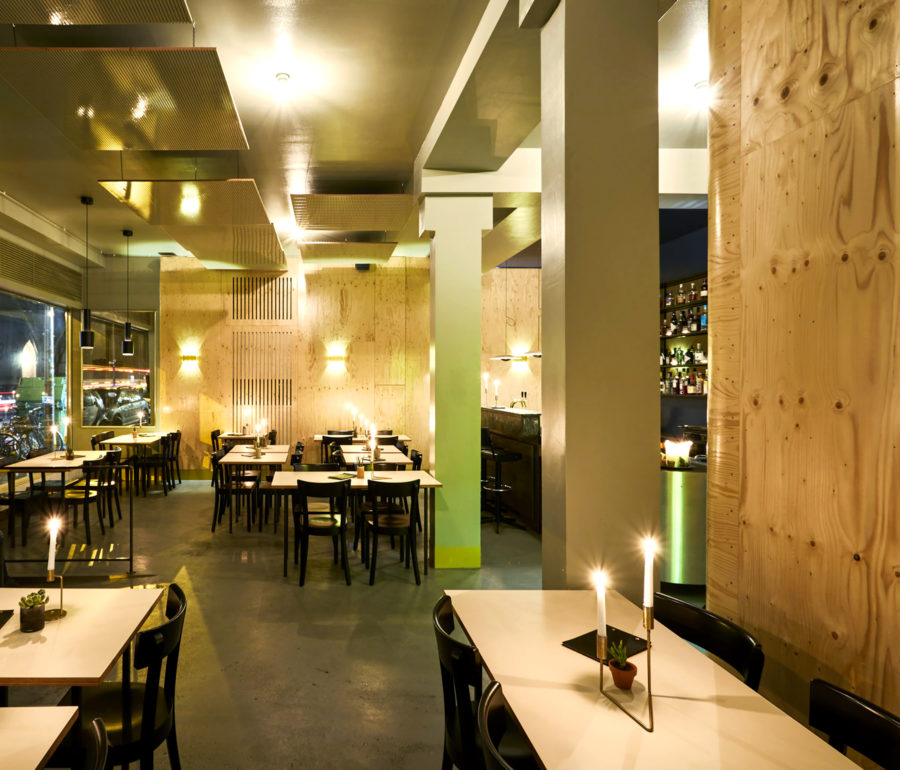 in collaboration with Claus Philip Lehmann and Julius Lehniger
Wallckza is a bar, restaurant and café all in one. It is located in Cologne-Ehrenfeld, a densely populated, multicultural neighborhood, behind the green façade of the beautiful building in Subbelrather Straße, that in the past hosted a butcher's shop. The concrete floor emphasizes the custom-made bar elements, mostly made from steel, marble and wood coverings. The polished wooden surfaces add an eccentric tone to the space, especially in the evening through the play of shadows and light reflections. The lighting changes throughout the day, creating different atmospheres which underline and enhance the play of colors. The mix of wood, concrete and warm light creates a cozy atmosphere.
The bar, in the middle of the space, creates a playful and flexible arrangement and at the same time organizes the different areas: food preparation, coffee, service and guests. The bespoke metal buffet and bar combines new and existing elements and is mastered by Anderl Kammermeier Berlin. The design considered the careful reuse of materials from the old butchery, highlighting the connection between the old and the new. The stainless steel and the green marble from the old counter are matched with mirrored glass, perforated steel and other finishings while colors are used to define spaces yet integrated in one room. During the day the big window opens the space to the street, bathing the room with natural light. In the evening, for a mezze dinner by candlelight, the full splendor of Wallzcka unfolds enhancing the in-and-out relationship.
The design and construction process was open and collaborative engaging friends and artists who left their signature in the space. Simon Mullan implemented the tile pieces in both restrooms and Julius Lehniger's spectacular unique Cube lamp is integral part of the restrooms´ lighting.
For our team and the owners, it was essential to impress with quality, variety of materials and a friendly, welcoming ambience at any time of the day. The outdoor terrasse, features the lovely Berliner Gartenstühle steel chair set also by Anderl Kammermeier Berlin
All images © Valerie Schmidt